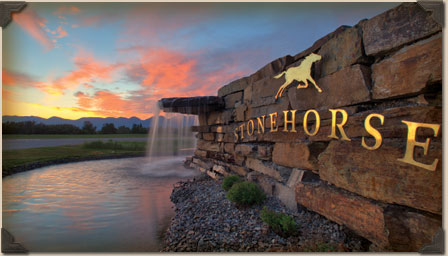 Just north of Polson Montana you will find Stonehorse - a 500-acre real estate neighborhood elevated above Flathead Lake.
A home at Stonehorse offers stunning views of the Mission Mountain Range and Flathead Lake, and endless activities in each season of the year.
Flathead Lake offers you plenty of room to enjoy the open Montana skies. Located just south of Kalispell, the largest natural freshwater lake west of the Mississippi is 28 miles long and up to 15 miles wide. The lake's sparkling waters and miles of tree-lined shore offer unlimited recreational opportunities and wildlife habitat.
Wild Horse Island, Flathead Lake's largest island, is a wildlife refuge for more than 75 species of birds along with deer, bighorn sheep, coyotes and bears. Enjoy them from the hiking trails that meander around the island, through forests and open meadows prairie, past early 20th century homesteads. Geese, osprey, herons, and eagles frequent the aptly named Bird Islands, a popular spot for peaceful paddling.
Contact Us for further information or visit the Montana Stonehorse website to learn more.