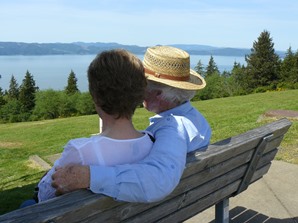 There may come a time when you start to think about simplifying your life. The kids are gone. What do you need that big house and big yard for? It's expensive to maintain, expensive to heat and cool, and cleaning can be exhausting. Perhaps you lost your zeal for cutting and edging the lawn, and trimming the bushes and trees, or you just want to do spend less time on these things.
Although it can be emotional to let go of the home you've loved, there is a whole new world of possibilities out there for you to consider. That's the fun part . . . starting anew!
Let's look at some of the pros and cons of downsizing.
1. Less maintenance. Bigger house usually means more maintenance . . . more cleaning, more yard work, more of everything. Moving to a smaller home with a smaller yard may be a real time and energy saver. Perhaps you can find a newly built home, or have a home built to meet your specifications. A new home is very little maintenance, and it just seems to stay cleaner. You may also want to consider living in a villa or condo where the exterior maintenance is taken care of in your association dues. If you plan to spend time visiting family in far-away places, or traveling extensively, then a villa or condo might be a great choice for you.
2. Improved security. If keeping your home safe and secure from outsiders is a major concern, then a gated community may be for you. A community with restricted access will keep out people that don't belong there, and provide you with peace-of-mind whether you are home or away.
3. Lower utility costs. Utilities can be quite expensive, and generally the larger the home the higher the cost. Of course, this is something you will want to check out, as the cost of utilities has a lot to do with energy-saving appliances, HVAC systems, home insulation, and smart-home regulators.
4. Get the cash out of your home. Freeing up the money you have tied up in your home's equity can open many new doors for you. There are lots of things you can do with the money. You can invest for the future and/or the future of your children and grandchildren. You can feel comfortable spending extra to travel to places you've always wanted to go.
5. Downsizing your home also means purging your things. This can be really hard for some people. Getting rid of all the things you've been hanging onto for years, all the kids items that are still in the attic, basement and garage. Downsizing means letting them go. You will probably need less furniture too, so selling some of your extra furniture may be in order. It can be liberating de-cluttering your life from things you no longer use or need.
6. The agony of moving. Moving is a lot of work. There's no way around it. Even if you hire professional movers to pack, transport, and unpack your belongings, there is a tremendous amount of preparation. You should start getting rid of things and preparing to move many months ahead of time
7. Room for visiting family/friends. Most parents/grandparents want to have room for their families to come visit for holidays and vacations. That doesn't mean you need to stay in your present home for the few times your family and friends come to stay. Buying a new, smaller home with a few bedrooms and at least one additional full bath will accommodate your guests. If some of them need to sleep on air mattresses and share your master bathroom with you, then so be it. It won't be as comfortable for your guests, or for you, but a little discomfort is a small price to pay to be together. The important thing is that your new home works for you and your current lifestyle, not for your guests.
Bottom line . . . most of us are faced with this decision at some point, and you have to make the best decision for you.
Contact me any time. I'll be happy to help you look at the options and what downsizing might mean for you.